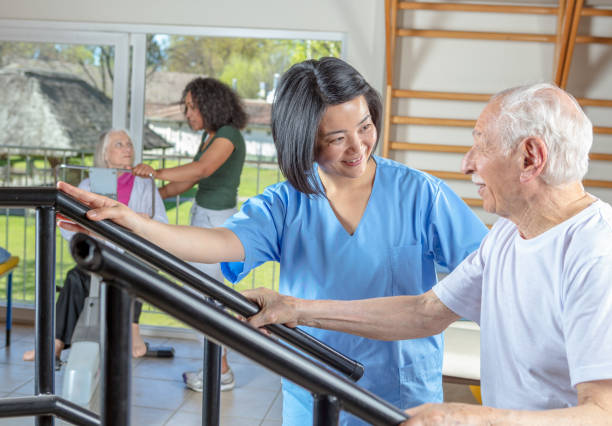 When it comes to our elderly family members, we have a choice of where they can complete their rehabilitation after getting discharged from a medical facility. A couple of these choices include assisted living communities with rehab services and skilled nursing homes that offer round-the-clock care.
Let's discover which is the best option for your loved ones to assist them in recovering as safely and fast as possible.
What is a Senior Rehabilitation Center?
Senior rehabilitation centers are facilities that are meant for patients recovering from serious medical events or injuries. The facilities offer services that are designed to improve function and reduce pain. Senior rehabilitation centers usually provide the following services:
Speech therapy – Speech therapy is typically used to assist seniors with conditions that affect their cognitive skills (like memory and attention problems), swallowing, and communication.
Occupational Therapy – Occupational therapy is a form of therapy meant to assist your elderly loved one with their fine motor skills, daily living activities, and adaptive equipment.
Physical Therapy – This type of therapy is the most common and is commonly used to help improve a patient's flexibility, range of movement, and balance, manage pain, enhance mobility, and increase strength.
Some modern senior rehab centers provide both long and short-time inpatient rehabilitation services. The health of your elderly loved one dictates how much rehabilitation they require. For instance, your grandfather may only need to stay at a senior rehab center for a few weeks after undergoing minor surgery. However, they may need several months of rehab services if they are recovering from serious, chronic conditions like a stroke or heart issues.
Your highly-trained doctor will evaluate the severity of your loved one's injury or illness to determine which type of rehabilitation program is right for them. All of you can decide if your parent, grandparent, or loved one is more likely to attain their rehabilitation goals safely in a skilled nursing facility or another rehabilitation option.
Outpatient vs. Inpatient Senior Rehabilitation Services
Rehabilitation centers for the elderly may also provide outpatient and inpatient services. If your loved one requires continuous monitoring and around-the-clock care, they may significantly benefit from inpatient rehabilitation. This type of rehabilitation is ideal for seniors recovering from:
Debilitating disease
Serious injury
Major surgical procedures
It requires them to stay at a rehabilitation facility for a certain period. During an inpatient rehab stay, your loved one will be subjected to intensive care that typically includes speech, physical, and occupational therapy.
Additionally, inpatient rehab centers may also provide exercise classes, counseling services, meals recommended by dietitians, and social activities. All these are done while providing your loved one with assistance with daily activities like getting dressed, bathing, and providing medical care.
On the other hand, outpatient rehabilitation services also include speech, physical, and occupational therapy. But your loved one lives at home and will go to the senior rehab facility to complete their rehabilitation and go back home.
Understanding Senior Rehab Terms
Unfortunately, people always confuse the terminology used to describe long-term care options with inpatient settings. However, you must remember that senior rehab is only offered temporarily to help your loved one recuperate. The following explanations and definitions will help caregivers, and seniors better understand elderly rehab.
Nursing homes are facilities that provide 24/7 nursing care, custodial care, and 24/7 supervision for older adults who cannot be cared for at home. While some nursing home services are meant for long-term residents, others also have separate rehab programs or units for residents who need various types of therapy and skilled nursing care.
Most older adults often move from a hospital to a nursing home for rehabilitation purposes. Most of them opt for a short-term stay if the injury or illness was minor.
In a nutshell, it is a nursing home that has Medicaid certification. A Medicaid-eligible patient who wants to transition to long-term care at the same home where they underwent rehabilitative care may proceed if the nursing home accepts Medicaid. However, if the rehab facility is not Medicaid-certified, your loved one will have to transfer to a nursing facility that is Medicaid certified to enjoy the benefits of Medicaid nursing facilities.
Skilled Nursing Facilities (SNF)
An SNF is a nursing home that provides both long-term care and subacute care because it is certified by both Medicaid and Medicare. Additionally, Medicare will only cover one hundred percent of skilled nursing facility expenses for the initial 20 days of your loved one's stay. Also, seniors can opt to become permanent residents after exhausting their hundred-day Medicare benefit period since skilled nursing facilities accept Medicaid, Medicare, and private pay. To qualify for Medicaid coverage of an extended stay, your loved one can spend their income and assets or pay privately for the services.
Inpatient Rehab Facilities (IRFs)
The Centers for Medicare and Medicaid Services define these facilities as freestanding hospitals or part of acute care hospitals offering intensive rehab programs for their patients. They are also known as rehabilitation hospitals or acute care rehab centers. Here, seniors must be willing and able to withstand acute rehabilitation care. Senior rehab care is administered by a team of experts, including nurses and physicians specializing in rehabilitation medicine.
A Senior Rehabilitation Center
This refers to an independent facility that offers rehabilitative care and skilled nursing care to patients on a short-term basis. It is also used to describe a rehabilitation unit within a nursing home. These types of rehab centers offer subacute care.
Are You Looking for The Best Senior Rehabilitation Center in Hermann, MO? Welcome to StoneBridge Senior Living
Choosing the right senior rehabilitation facility for your loved one can be overwhelming. Whether they are looking for a permanent stay in a long-term facility or only need temporary services, StoneBridge Senior Living will provide the best possible care for your aging loved one.
We have a clean facility with highly-trained staff members who treat our residents like family. Our community is not only respectful to our seniors, but we are also compassionate and caring. So, if you are looking for the right senior rehab center for your elderly loved one, look no further.
For more information on senior rehabilitation, visit our office in St. Charles, MO. You can also call 573.486.3155 today to schedule a free tour of our facility.