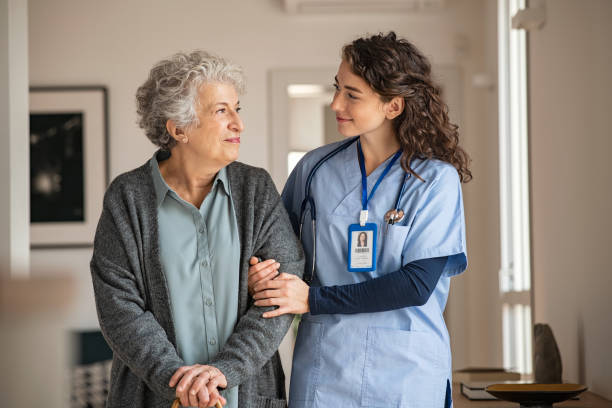 Do you know you have options when deciding where your aging loved one can complete their rehabilitation after being discharged from the hospital? From rehabilitation services that can be performed at an assisted living community or home to skilled nursing homes that offer 24/7 care, you have various options for your loved one to get better as safely and quickly as possible.
Also, many forms of long-term care involve various levels of personal care, medical care, costs, and supervision. For this reason, you must understand the differences between senior rehab settings, how these options overlap, how you can pay for them, and the type of care they provide. This will make the task of finding the best senior rehab center for your loved one easier.
What is Senior Rehabilitation Care?
The doctor orders short-term rehabilitative care for patients who require extra supervision and support to help recover from a surgical procedure, illness, or injury. Rehabilitative care helps aging patients regain as much of their functional and physical abilities as possible, which would otherwise be hard to accomplish on their own.
Senior rehab care is often required to facilitate recovery from a joint replacement, heart attack, stroke, pulmonary disorder, amputation, hip fracture, or traumatic brain injury. Most seniors use the limited Medicare Part A benefits in conjunction with their private funds to cover the costs of this care.
In any scenario involving elder care, you must understand the services an elder adult requires so that you can decide what care best suits their needs. Needless to say, senior rehab services entail the highest level of care in all the categories because it offers skilled care.
This includes rehabilitation or nursing services to observe, assess, or manage a resident's care. According to Medicare, skilled care includes physical therapy, occupational therapy, intravenous therapies, and wound care. This type of care can only be offered by a registered doctor or nurse or while under their supervision.
Senior Rehabilitation Services in Owensville, MO
The main aim of senior rehabilitation centers is to assist patients recovering from a serious medical event or injury to alleviate pain and improve function. Some of the services provided in senior rehab facilities include:
Occupational Therapy – This helps with the use of adaptive equipment, enhancing fine motor skills, and helps with activities of daily living (ADL)
Physical Therapy – This helps improve the patient's balance, mobility, and flexibility, as well as manage pain and increase strength
Speech Therapy – This helps with conditions that affect the patient's swallowing, communication, and cognitive skills like memory or attention issues
Types of Senior Rehabilitation Care
One of the major differences between senior rehabilitation care options is where the services are provided. Here, the rehab setting goes hand in hand with the level of skilled care the elderly patient requires.
When the doctor deems it unfit to discharge a senior safely to their home immediately due to their condition, the patient will require some form of inpatient rehabilitative care. This involves formally admitting the patient to a healthcare facility or hospital. This stay is temporary and may last for a few days, weeks, or months. There are two categories of inpatient rehab.
Experts define acute rehab care as an intensive rehabilitation program that is multidisciplinary and is meant for patients who have had a severe stroke, or intensive surgery, like an amputation, have sustained traumatic injuries, or have a debilitating disease. The senior patient will have at least three hours of therapy during the stay daily. This will continue for up to five days every week. In addition to a physician seeing the patient daily, personal care and nursing are also offered.
Most family caregivers and elders are familiar with this type of senior rehabilitation. Subacute rehabilitation programs often comprise an hour or two of therapy each day. This is typically a combination of occupational, physical, and speech therapy. Although subacute rehab stays are often longer than acute rehab stays, they are still temporary. A senior patients will receive assistance with personal care and nursing care as needed during their stay. Unlike acute rehabilitation, patients in subacute senior rehab centers get a visit from the physician approximately once every 30 days.
Senior Rehabilitation Location Options
As mentioned earlier, senior rehab can take place in various settings including:
In-Home Senior Rehabilitation
Some elderly rehab services can be provided at home via home health agencies. Home health services are typically performed by licensed medical experts who perform a specific task as ordered by a doctor. These services are paid for by insurance or Medicare, including administering injections, monitoring health, providing wound care, or developing a physical therapy exercise or strength training program.
Senior Rehab at a Skilled Nursing Facility (SNF)
Also known as rehab hospitals, SNFs offer short-term rehabilitation and housing services for seniors who need round-the-clock skilled medical care and nursing services. Skilled nursing facilities typically feel like a clinic, complete with shared rooms and hospital beds. Patients also receive social services, dietary counseling, and meals.
As long as a senior patient enters an approved SNF within 30 days of a clinic stay that lasted at least three days, they may be covered by Medicare.
Elderly Rehab at Assisted Living Communities
Little do people know, but seniors can complete their rehabilitation in assisted living facilities. Just like in-home rehab, you can receive home health services such as nursing and other specific therapies that are all paid for by Medicare. The big plus here is the availability of 24/7 assistance from the assisted living facility staff.
Looking For the Best Senior Rehabilitation in Owensville, MO? Welcome To StoneBridge Senior Living
If you are looking for a top-notch senior rehabilitation center for yourself or a loved one, look no further. StoneBridge Senior Living is a perfect spot for our elderly to recover from stroke, trauma, major illness, or surgery. Our residential setting is very comfy and offers that restful feeling of home.
Additionally, we have an amazing family of dedicated and compassionate caregivers who offer support to our esteemed residents 24/7. They include certified, experienced, and highly-trained physical therapists, speech therapists, occupational therapists, and rehabilitation nurses.
Visit StoneBridge Senior Living at our office in Owensville, MO, for more information on senior rehabilitation. You can also call 573.437.6877 today to schedule a tour.